Alumni of the Rotterdam School of Management
This page gives an overview of Frank's joint activities with the RSM and provides a special benefit for the RSM alumni.
Frank joined the Executive MBA class of 2001 (EMBA01) of the Rotterdam School of Management (RSM) together with 121 other participants. Today he is still in close contact with the RSM programme and alumni management and with many of his class mates and alumni of other classes.
Special benefit for RSM alumni
Frank is a true advocate of the alumni network and believes in it's strength. He therefor grants every alumnus of the Rotterdam School of Management a discount of 20% on every training of his programme. An alumnus is in this context a graduate of the (full time) MBA, (part time) Executive MBA or One MBA programmes. The benefit can be extended to the alumnus' direct subordinates at work. This benefit is subject to Terms & Conditions ("Actievoorwaarden") available on this website.
Joint activities with RSM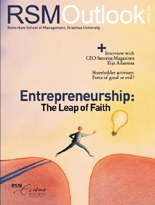 After graduating Frank did not really leave campus; the RSM invited him back on many interesting occasions. He is participating or has participated in an array of activities, such as:
Mentorship programme
for MBA classes of 2011 and up
Living Management Consulting Project
for MBA classes of 2009 and up
Article in RSM Outlook magazine
titled "What does it take to be an Entrepreneur?" in the Summer 2008 issue
Boost session
presented session number 2 titled "Four Steps to Successful Innovation" on February 8, 2008
Guest lecture
about Management of Innovation as part of the elective Entrepreneurship for EMBA class of 2006
Infosession
for MBA class of 2005
For more information about these activities please click on one of the following web links: